Marion Elizabeth (ADAMS) RITZMAN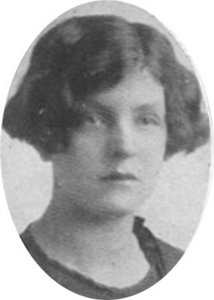 Click On Image To Enlarge
Marian Elizabeth Adams was the daughter of Denton D. and Jane (Ward) Adams. She was born November 29, 1908 and died July 25, 1972. She graduated from Port Royal High School in the Class of 1927. She was married to D. Carl Ritzman.

OBITUARY for MARION E. ADAMS RITZMAN

Mrs. MARION A. RITZMAN, 63, of Mifflintown R.D. 1, died Tuesday, July 25 [1972] at 8 p.m. in the Lewistown Hospital

She was born Nov. 29, 1908, in Delaware township, Juniata County, the daughter of Denton D. and Jane Ward Adams, both deceased. She was the widow of D. Carl Ritzman.

Surviving are six sons, Harry A., Denton D., and Joseph D., all of McAlisterville, David C., of Richfield Star Route, Earl W. of Mifflintown R.D. 1 and Samuel R., of Oakland Mills; two daughters, Mrs. Jerome (Jane) Cook of Port Royal and Mrs. Richard (Susan) Smith of Gettysburg; two brothers, Denton D. and John W. Adams of Thompsontown R.D. 1; 15 grandchildren, and one great-grandchild.

Mrs. Ritzman was a member of the Lost Creek Untied Presbyterian Church and the Community Club of McAlisterville.

Services were held Friday afternoon in die Stuck Funeral Home at McAlisterville with Rev. Walter E. Williams officiating. Interment was made in the Lost Creek Presbyterian Cemetery.