Homer Charles FOLTZ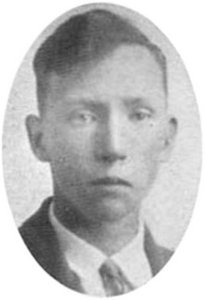 Click On Image To Enlarge
Homer Charles Foltz was the son of Charles and Agnes (Haines) Foltz. He was born August 21, 1907 and died March 8, 1992. He graduated from Port Royal High School in the Class of 1927. He was married to Florence T. Troxell.

OBITUARY for HOMER C. FOLTZ

HOMER C. FOLTZ, 84, of 226 Overhill Rd., Reedsville, died at 10:48 a.m. Sunday, March 8, 1992, in the emergency room of Lewistown Hospital.

Born August 21, 1907, in Turbett Township, Juniata County, he was a son of the late Charles D. and Agnes [Haines] Foltz. His wife, Florence T. [Troxell] Foltz, whom he married September 1, 1935, survives.

He is survived by two grandchildren and four great-grandchildren.

He was the last of his immediate family having been preceded in death by a son, James Allen Foltz in 1986, three brothers and a sister.

He had been the manager of the Lewistown A&P and was the co-owner of Milroy Dry Cleaners.

Private graveside services were held at the convenience of the family in the Church Hill Cemetery, Reedsville, with the Rev. Kenneth Longfield officiating.

The Bohn Funeral Home, Reedsville was in charge of arrangements.