MacBarney Apartments
Sixth St.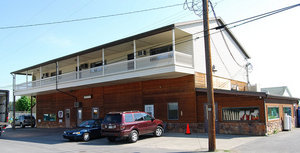 Click On Image To Enlarge
At one time this building served as the Port Royal Dairy. It was owned at different times by Walter McCahan, Rodney Deamer and Robert Kauffman. This building served as the dairy after William and Maggie (Dysinger) Gilson ended their operation on Main Street.

Eventually the property was purchased by Byron Gray and a restaurant was created on the first floor with apartments on the second floor.

It appears that the addresses for the apartments include numbers: 202, 204, 204R, 206, and 210.
| | |
| --- | --- |
| | Contributed by rkohler3 on 10/23/09 - Image Year: 2009 |
| | Contributed by rkohler3 on 5/8/14 - Image Year: 2007 |