General Store - Old Port
Route 75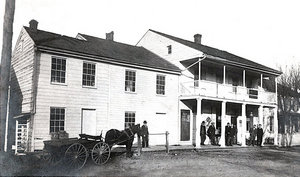 Click On Image To Enlarge
The store at Old Port was one of the principle general merchandise stores for much of the Tuscarora Valley. It served as a hub for commerce before activities were shifted across the Tuscarora Creek to Port Royal.

Although the store has been owed by a number of merchants, it is probably most commonly associated with the Hertzler Family.

There have been two buildings. The first building was destroyed by fire in 1912 and a second building was put in its place.

The following item appeared in the Nov. 3, 1913 issue of the Port Royal Times: "J. G. Hertzler's new store building at Old Port will be ready for occupancy about December 1. When completed, it will be the most modern and up-to-state store building in Juniata County."

In 1929 the store was sold and the following account appeared in the Port Royal Times: Hertzler Store at Old Port sold. Last Friday, Mr. W. R. Moyer, of Berrysburg, Dauphin county, purchased the stock, fixtures and store room together with the store house that adjoins the store building at Old Port. This business was established in 1837 by the late Noah Hertzler, deceased, grandfather of the recent owner, and has been in the Hertzler name ever since. The new firm will trade under the firm name of W. R. & M. Moyer."

It is likely that the Moyers sold the store to Miles Heckendorn who inturn sold it to Glen and Martha Kepner. The Kepners in 1949 sold it to Bernal and Ruth Taylor. (Martha and Ruth were sisters.) After Bernal's death, Ruth operated the business until it was closed in 1970. (During the Kepner and Tailor ownership it was called the Old Port Trading Post)

Wayne Taylor, son of Bernal Taylor tells of having a shooting range in the second floor of the building. He says that railroad ties were stacked in the corner next to the Old Port Mill and a steel plate was placed in front of the ties. The shooters would use 22-shorts from an opposite corner of the building.

In 2020 the Address for this property was 26037 Route 75. Although it was not being used at the time as a commercial property, it was owned by an individual named St. John.
| | |
| --- | --- |
| | Contributed by rkohler3 on 4/9/12 - Image Year: 1880 |
| | Contributed by rkohler3 on 1/24/12 - Image Year: 1886 |
| | Contributed by rkohler3 on 9/4/09 - Image Year: 1885 |
| | Contributed by ray on 7/22/11 - Image Year: 1900 |
| | Contributed by rkohler3 on 7/22/11 - Image Year: 1880 |
| | Contributed by rkohler3 on 9/4/09 - Image Year: 1900 |
| | Contributed by rkohler3 on 9/23/09 - Image Year: 1908 |
| | Contributed by rkohler3 on 9/4/09 - Image Year: 1920 |
| | Contributed by rkohler3 on 3/12/13 - Image Year: 1936 |
| | Contributed by rkohler3 on 8/3/09 - Image Year: 1949 |
| | Contributed by ray on 3/21/13 - Image Year: 1952 |
| | Contributed by rkohler3 on 12/25/10 - Image Year: 1970 |
| | Contributed by kkint54 on 9/19/09 - Image Year: 1972 |
| | Contributed by ray on 8/23/09 - Image Year: 2009 |
| | Contributed by rkohler3 on 5/18/14 - Image Year: 2007 |
| | Contributed by ranjude on 3/24/17 - Image Year: 1970 |