106 North Fifth Street
Fifth St.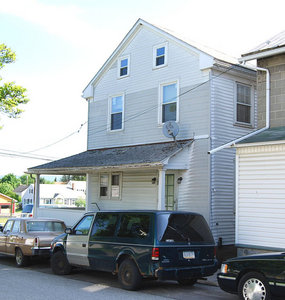 Click On Image To Enlarge
This house sits behind the former Leonard Grocery and Isenberg Heating, Plumbing and Appliance store on the east side of North Fifth Street.

At one time it was occupied by John and Joy Leonard Longnecker. Joy's brother Alvin owned the store to the right of the building.

During the 1950s and 60s it was occupied by Frances (Dysinger) McClure, the widow of Thomas Furman McClure. Mrs. McClure purchased the property from the heirs of Norman B. Leonard on June 1, 1949 for the price of $3300. The Leonards had purchased the property April 25, 1940 from the administrator for Laura Kepner.

About four years after the original purchase by Mrs. McClure, she purchased on May 20, 1953 an additional adjacent lot from the Methodist Church for the sum of $350. This lot also fronted on 5th Street and extended from her property to the alley north of her property. (The addition consisted of 744 square feet.) The Church had purchased the lot November 26, 1913 from Laura Powell. (Since the lot was sold via the church Board of Parsonage Trustees, it may be that the church purchased the property with the intent of using it to construct a parsonage.)

The property was in the name of Teresa O'Neal in 2009.