1107 Market Street
Market St.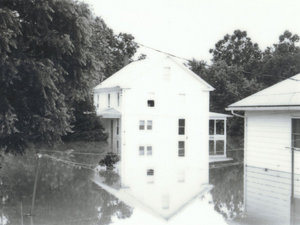 Click On Image To Enlarge
This house sits to the right as you exit the Tuscarora Creek bridge coming from Old Port. At one time the house was owned by Clark Taylor, then S. A. Goodman and then L. W. Ranck all of whom operated a blacksmith shop from the barn on the property. However, for much of the Twentieth Century the property belonged to the Kepner Family. Ira Dyson Kepner and family owned the property and then his eldest son Arthur "Dutch" and Edith (Towsey) Kepner and their children, Robert, Fred and Betty lived here. After "Dutch" died, Edith lived with her son and daughter-in-law, Fred and Norene (McKnight) Kepner.

There is a garage associated with this property that at one time housed the blacksmith shop. (The building of the former blacksmith shop isn't visible in either of the pictures. It sits fairly close to the Tuscarora Creek.)

Eventually the property was sold to the Robert Campbell family and they still resided here in the Spring of 2009.
| | |
| --- | --- |
| | Contributed by rkohler3 on 9/25/09 - Image Year: 2009 |