616 Market Street
Market St.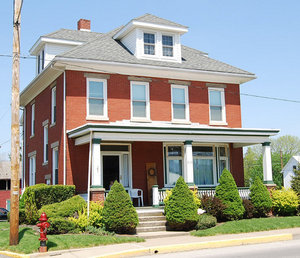 Click On Image To Enlarge
This house sits on the northeast corner of the intersection of Market and Seventh Streets. The house was built in the 1920s by John A. and Anna Mary (Jacobs) Kohler. (This house does not appear on the Sanborn Fire Insurance map of 1911 but does appear on their 1928 map.) They moved here from a farm in Turbett Township. John was one of the founders of the First National Bank in Port Royal.

After the Kohlers, the house became the home of the McCreary family, then Edgar and Margaret Kathryn (Beale) Graham and their children, Helen and Donald. Edgar was an Assistant Cashier of the Port Royal National Bank.

In 2009 the house was listed to Shane Armstrong.
| | |
| --- | --- |
| | Contributed by rkohler3 on 9/25/09 - Image Year: 1925 |
| | Contributed by rkohler3 on 9/25/09 - Image Year: 2002 |
| | Contributed by rkohler3 on 5/23/14 - Image Year: 2007 |
| | Contributed by rkohler3 on 11/9/09 - Image Year: 1889 |
| | Contributed by rkohler3 on 11/9/09 - Image Year: 1904 |
| | Contributed by rkohler3 on 11/9/09 - Image Year: 1911 |
| | Contributed by rkohler3 on 11/9/09 - Image Year: 1928 |