School - Airy View - PRHS - TVHS
Main St.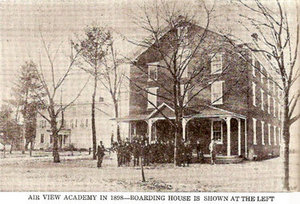 Click On Image To Enlarge
In October, 1852, David Wilson, in affiliation with David Laughlin, opened the Airy View Academy which presented good educational advantages. (Based on the certification for Ephraim Stewart (below) it originally may have been called the CENTRAL ACADEMY).

The first academy building was located behind the current MiniMart (2009). That building burned down and classes were held in the dormitory until the replacement building was erected in 1852.

In 1914, the building was acquired by the Port Royal School Board and became the Port Royal High School. In 1942 a joint board was formed with Turbett and Spruce Hill Township School Districts and the name was changed again, this time to Tuscarora Valley High School.
Contributed by rkohler3 on 9/10/09 - Image Year: 1890

Contributed by rkohler3 on 1/18/12 - Image Year: 1853

Contributed by rkohler3 on 6/5/15 - Image Year: 1888

Contributed by garthe on 9/22/09

Contributed by rkohler3 on 8/3/09 - Image Year: 1903

Contributed by rkohler3 on 9/14/09 - Image Year: 1930

Contributed by ray on 8/23/09 - Image Year: 1954

Contributed by ray on 8/23/09 - Image Year: 1970

Contributed by ray on 8/23/09 - Image Year: 1973

Contributed by rkohler3 on 3/10/13 - Image Year: 1973

Contributed by rkohler3 on 3/10/13 - Image Year: 1973

Contributed by rkohler3 on 3/1/13 - Image Year: 1974

Contributed by rkohler3 on 7/7/12 - Image Year: 1974

Contributed by rkohler3 on 8/23/09 - Image Year: 2009

Contributed by ray on 8/23/09 - Image Year: 2009

Contributed by rkohler3 on 11/9/09 - Image Year: 1889

Contributed by rkohler3 on 11/9/09 - Image Year: 1904

Contributed by rkohler3 on 11/9/09 - Image Year: 1911

Contributed by rkohler3 on 11/9/09 - Image Year: 1928