512 Market Street
Market St.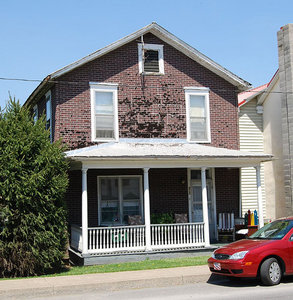 Click On Image To Enlarge
This house sits on the north side of the 500 Block of Market Street. (This house was constructed between 1911 and 1928 because it does not appear on the Sanburn Fire Insurance Map of 1911 but is on their 1928 map.)

At one time this was the residence of Jim and "Weiner" Martin. Jim would play his violin in the alley each evening. During the last half of the Twentieth Century this was the home of Paul L. and Berneace (Kauffman) Page and their children.
| | |
| --- | --- |
| | Contributed by rkohler3 on 5/24/14 - Image Year: 2007 |
| | Contributed by rkohler3 on 11/13/09 - Image Year: 1889 |
| | Contributed by rkohler3 on 11/13/09 - Image Year: 1904 |
| | Contributed by rkohler3 on 11/13/09 - Image Year: 1911 |
| | Contributed by rkohler3 on 11/13/09 - Image Year: 1928 |