515 Market Street
Market St.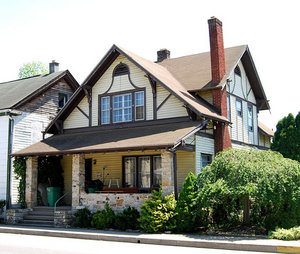 Click On Image To Enlarge
This house sits at the southeast corner of Market and Sixth Street. (This house was built between 1911 and 1928 because it does not appear on the Sanborn Fire Insurance Map of 1911 but it does appear in their 1928 map.)

During the 1940s, 50s and 60s this house was the home of Joe and Jane (Book) Frankhouse and their children, Marlin and Nedra. Joe operated a Buick and Pontiac dealership from the garage on the rear of the property.
Contributed by rkohler3 on 12/25/10 - Image Year: 1964

Contributed by rkohler3 on 5/24/14 - Image Year: 2007

Contributed by rkohler3 on 5/22/16

Contributed by rkohler3 on 11/13/09 - Image Year: 1889

Contributed by rkohler3 on 11/13/09 - Image Year: 1904

Contributed by rkohler3 on 11/13/09 - Image Year: 1911

Contributed by rkohler3 on 11/13/09 - Image Year: 1928