510 Market Street
Market St.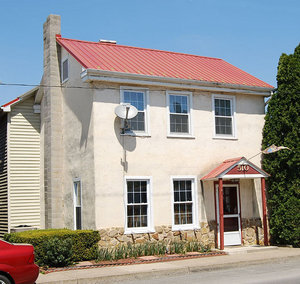 Click On Image To Enlarge
This house sits on the north side of the 500 Block of Market Street. (This house was constructed prior to 1889 because it appears on the Sanborn Fire Insurance Map of that year.)

Still later the house was owned by Charles Foltz. Edith (Haines) Ard purchased the house in the 1950s and lived there with her daughter, Eleanor (Ard) McCahan. The house was owned by Robert Page in 2009.
| | |
| --- | --- |
| | Contributed by rkohler3 on 5/24/14 - Image Year: 2007 |
| | Contributed by rkohler3 on 11/13/09 - Image Year: 1889 |
| | Contributed by rkohler3 on 11/13/09 - Image Year: 1904 |
| | Contributed by rkohler3 on 11/13/09 - Image Year: 1911 |
| | Contributed by rkohler3 on 11/13/09 - Image Year: 1928 |