507 Market Street
Market St.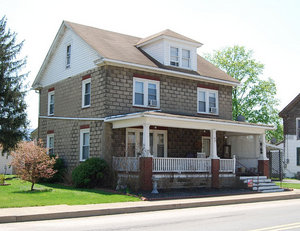 Click On Image To Enlarge
This house sits on the south side of the 500 Block of Market Street. (This house was constructed between 1911 and 1928 because it does not appear on the Sanborn Fire Insurance Map of 1911 but does appear on their 1928 map. The 1911 map shows two houses to the east of this where this house was eventually situated. Both were apparently torn down when this house was constructed.)

For much of the twentieth century it was the home of Wilbur C. and Frances (Miller) Taylor and their children Marian, Ketha, John and Helene. After the death of her parents, Marian, the widow of Guy Rice lived in the house.
| | |
| --- | --- |
| | Contributed by rkohler3 on 11/13/09 - Image Year: 2010 |
| | Contributed by rkohler3 on 11/13/09 - Image Year: 2011 |
| | Contributed by rkohler3 on 11/13/09 - Image Year: 2012 |
| | Contributed by rkohler3 on 11/13/09 - Image Year: 2013 |