313 Market Street
Market St.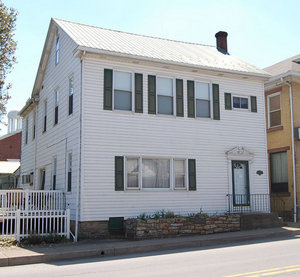 Click On Image To Enlarge
This house sits on the south side of the 300 Block of Market Street. It has an interesting history.

In the late 1800s it served as the home of James Carpenter, a blind dealer in chickens, eggs, butter and other farm items. He lived here with his wife and son James. The elder Carpenter was last seen on December 10, 1893. It turns out that Mr. Carpenter was beaten with a two foot long heavy club; his throat was slashed severing the arteries, veins and much of the other tissue in his neck and his body was hauled almost a quarter of a mile on a stolen sled and dumped in the Tuscarora Creek. His son James Jr. was eventually charged with and convicted of the crime, having killed his father in the shed behind the house.

Sometime thereafter the property was known as the Elder Boarding House. Mrs. Elder took in boarders.

In 1945 the property was purchased by Wayne and Isabel (Anders) Boyer for use as a restaurant. Wayne gutted the entire first floor and installed a steel beam for reinforcement and then renovated the first floor as a restaurant. The restaurant had moved its location across Market Street from the 310 address. The restaurant was operated until it closed in 1952.

The Boyer Family lived above the restaurant and remained living there until they moved to First (Water) Street at the end of 1954.

After the restaurant was closed the building became the initial location of the Tuscarora Valley Loan Company and today it serves as a private residence.
| | |
| --- | --- |
| | Contributed by ray on 2/21/17 - Image Year: 1962 |
| | Contributed by rkohler3 on 1/9/20 - Image Year: 1985 |
| | Contributed by rkohler3 on 5/25/14 - Image Year: 2007 |
| | Contributed by rkohler3 on 11/26/09 - Image Year: 1889 |
| | Contributed by rkohler3 on 11/26/09 - Image Year: 1904 |
| | Contributed by rkohler3 on 11/26/09 - Image Year: 1911 |
| | Contributed by rkohler3 on 11/26/09 - Image Year: 1928 |