310 Market Street
Market St.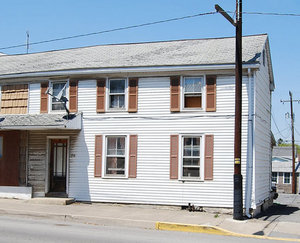 Click On Image To Enlarge
This house sits on the north side of Market Street and served as a store operated by William H. and Rachel Saylor in 1920s-1930s. At one time, about the 1950s, the Edgar Ulsh family lived in this house.

Beginning in 1932, Isabel Anders Kirkwood purchased a Tea Room at this property from Floyd and Martha Bashore. Eventually this business would close and Isabel, and second husband Wayne Boyer would open a new restaurant across Market Street. The second business would operate from 1945 till it closed in 1952.
| | |
| --- | --- |
| | Contributed by rkohler3 on 5/25/14 - Image Year: 2007 |
| | Contributed by rkohler3 on 11/26/09 - Image Year: 1889 |
| | Contributed by rkohler3 on 11/26/09 - Image Year: 1904 |
| | Contributed by rkohler3 on 11/26/09 - Image Year: 1911 |
| | Contributed by rkohler3 on 11/26/09 - Image Year: 1928 |