308 Market Street
Market St.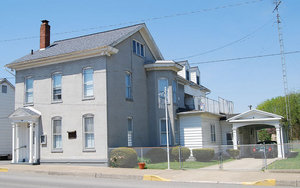 Click On Image To Enlarge
This building has served as a funeral home for over 100 years. It is currently owned and operated by Walter Rex as Rex Funeral Home. (For more information on the history search for "Funeral Home" on this site.)

The original building was made of red brick. Sometime in the mid 1950s, Robert Stimmel had the exterior resurfaced with gray brick facade.
| | |
| --- | --- |
| | Contributed by rkohler3 on 11/25/09 - Image Year: 1883 |
| | Contributed by rkohler3 on 11/25/09 - Image Year: 1962 |
| | Contributed by rkohler3 on 5/25/14 - Image Year: 2007 |
| | Contributed by rkohler3 on 11/25/09 - Image Year: 1889 |
| | Contributed by rkohler3 on 11/25/09 - Image Year: 1904 |
| | Contributed by rkohler3 on 11/25/09 - Image Year: 1911 |
| | Contributed by rkohler3 on 11/25/09 - Image Year: 1928 |