307 Market Street
Market St.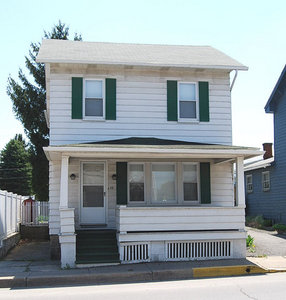 Click On Image To Enlarge
This house sits on the south side of Market Street in the 300 Block. It sat next to the hardware. In 1926 Paul Smith had his first photo studio in this house. At the time it was owned by Margaretta "Rhetta" (McMeen) Stimmel. Later in the 1900s it was occupied by the William and Reba (Groninger) Gilson Koons family. Reba's first husband Ross Gilson was killed when his milk truck was struck while crossing the PRR tracks in Tuscarora.

It is unclear from the Sanborn Fire Insurance Maps when this house was built. A house exists at this location beginning with the 1889 map, however it is not of the same exact configuration as this house which appeared in the 1928 map. It could be that the house was torn down and another built in its place or that the house was modified in its footprint. It is possible that the original building in this location was destroyed by the fire that consumed the first Bashore Hardware building.
Contributed by burlew1 on 1/20/10

Contributed by rkohler3 on 5/25/14 - Image Year: 2007

Contributed by rkohler3 on 11/25/09 - Image Year: 1889

Contributed by rkohler3 on 11/25/09 - Image Year: 1904

Contributed by rkohler3 on 11/25/09 - Image Year: 1911

Contributed by rkohler3 on 11/25/09 - Image Year: 1920