616 Milford Street
Milford St.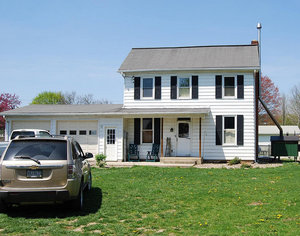 Click On Image To Enlarge
This house sits on the north side of Milford Street. (The first time this house appears on one of the Sanborn Fire Insurance maps was in 1904. The 1889 didn't show that section since it was in Milford Township at the time.)

At one time it was the home of Darwin and Doris (Bashore) Garrett. It is currently the home of Duane Hart, the grandson of the Garretts.
| | |
| --- | --- |
| | Contributed by rkohler3 on 5/22/14 - Image Year: 2007 |
| | Contributed by rkohler3 on 11/12/09 - Image Year: 1889 |
| | Contributed by rkohler3 on 11/12/09 - Image Year: 1904 |
| | Contributed by rkohler3 on 11/12/09 - Image Year: 1911 |
| | Contributed by rkohler3 on 11/12/09 - Image Year: 1928 |