602 Milford Street
Milford St.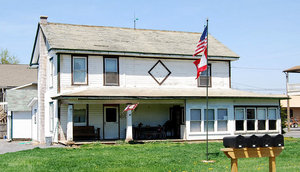 Click On Image To Enlarge
This house sits on the northwest corner of the intersection of Milford and Sixth Streets. The four mailboxes in the front suggest that it is a multiple unit dwelling. (This house must have been built between 1904 and 1911 because it appears on the Sanborn Fire Insurance Map of 1911 but not on their 1904 map.)

In October 1930 Charles C. Milliken opened a funeral home at this location. Charles died in 1939 and his widow Mabel continued the business for several years. During her tenure, Mabel was assisted by William B. Bethel of Dry Run.

In addition, Dorothy Jane "Dottie" Robinson Shearer (wife of Clair Lorraine Shearer) operated a beauty parlor in this building.

During the middle part of the Twentieth Century it was the home of Herman and Norine (Fuller) Towsey and children: Herman, Donald and John.
| | |
| --- | --- |
| | Contributed by rkohler3 on 5/22/14 - Image Year: 2007 |
| | Contributed by rkohler3 on 2/28/13 - Image Year: 1931 |
| | Contributed by rkohler3 on 7/7/12 - Image Year: 1939 |
| | Contributed by rkohler3 on 7/7/12 - Image Year: 1939 |
| | Contributed by rkohler3 on 11/12/09 - Image Year: 1889 |
| | Contributed by rkohler3 on 11/12/09 - Image Year: 1904 |
| | Contributed by rkohler3 on 11/12/09 - Image Year: 1911 |
| | Contributed by rkohler3 on 11/12/09 - Image Year: 1928 |