601 Milford Street
Milford St.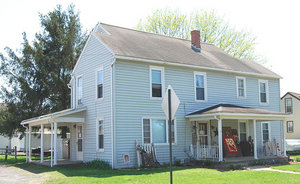 Click On Image To Enlarge
This house sits on the southwest corner of Milford and Sixth Streets. At one time it was a double unit, unsure about whether that is true now. (This house was constructed prior to 1889 because it appears on the Sanborn Fire Insurance Map of that year.)

This property was conveyed by Christopher and Mary (Boyer) Weimer to John Lewis and Sarah (Donahey) Maffett on April 1, 1901 for a sum of $650.

It was then again conveyed by the heirs of John Lewis Maffett to Paul R. and Mary P. (Fulton) Johnson on July 19, 1937 for the sum of $800.
| | |
| --- | --- |
| | Contributed by rkohler3 on 11/1/19 - Image Year: 1946 |
| | Contributed by rkohler3 on 5/22/14 - Image Year: 2007 |
| | Contributed by rkohler3 on 11/12/09 - Image Year: 1898 |
| | Contributed by rkohler3 on 11/12/09 - Image Year: 1904 |
| | Contributed by rkohler3 on 11/12/09 - Image Year: 1911 |
| | Contributed by rkohler3 on 11/12/09 - Image Year: 1928 |