416 Milford Street
Milford St.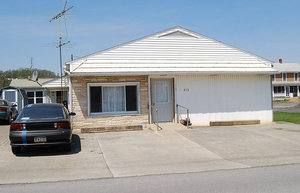 Click On Image To Enlarge
At one time this building was used as a Senior Citizen Center. Now it serves as a rental unit, with another unit behind to the left behind.

According to the Sanford Fire Insurance Maps this building was build after 1928, because it did not appear on their 1928 map.
| | |
| --- | --- |
| | Contributed by rkohler3 on 5/23/14 - Image Year: 2007 |
| | Contributed by rkohler3 on 11/21/09 - Image Year: 1889 |
| | Contributed by rkohler3 on 11/21/09 - Image Year: 1904 |
| | Contributed by rkohler3 on 11/21/09 - Image Year: 1911 |
| | Contributed by rkohler3 on 11/21/09 - Image Year: 1928 |