410 Milford Street
Milford St.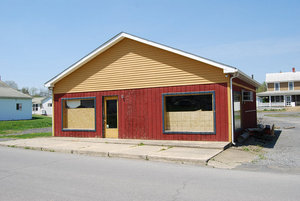 Click On Image To Enlarge
This building was the floral shop and was attached as the front of the greenhouse that was torn down in 2009. Some of the owners of the floral business have been Floyd and Martha Bashore, Lester and Lou Summers, Jim and Sandy McClure, Dick and Linda Pray, and the Ramsey family.

At different times during the 1950s, Darwin Garrett and Charles "Sonny" McCahan each had an electrical shop at this location. And at one time it served as the home of Bashore's TV and Juniata Photo.

Barney Gray eventually purchased the building and Barney now conducts his Sprint Car Drop from this location. Barney gave the Bicentennial Committee permission to operate a store in the building before and during the bicentennial celebration.

In 2012 the building became the home of the offices of THE TIMES of Port Royal.

Based on the Sanborn Fire Insurance Maps, this building was built after 1928 because it did not appear on their map of that year.
Contributed by rkohler3 on 10/13/09 - Image Year: 2010

Contributed by rkohler3 on 3/13/13 - Image Year: 1949

Contributed by rkohler3 on 2/28/13 - Image Year: 1960

Contributed by rkohler3 on 7/2/12 - Image Year: 2012

Contributed by rkohler3 on 5/15/12 - Image Year: 2012

Contributed by rkohler3 on 10/13/12 - Image Year: 2012

Contributed by kkint54 on 1/8/15

Contributed by rkohler3 on 9/30/14 - Image Year: 2014

Contributed by rkohler3 on 5/23/14 - Image Year: 2007

Contributed by rkohler3 on 11/21/09 - Image Year: 1889

Contributed by rkohler3 on 11/21/09 - Image Year: 1904

Contributed by rkohler3 on 11/21/09 - Image Year: 1911

Contributed by rkohler3 on 11/21/09 - Image Year: 1928