309 Milford Street
Milford St.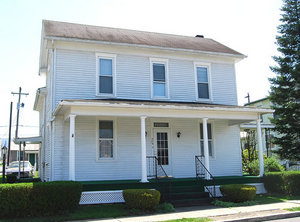 Click On Image To Enlarge
This house sits on the west side of the alley that divides the 300 block of Milford Street. For some part of the 1900s it was the home of the Charles Walters family. Apparently it was then purchased by Russell "Rush" and Katharine (Irvin) Leidy. Their son John C. Leidy was raised here and he in turn with his wife Esther (Fogleman) Leidy raised their two children, John Jr. and Jennie Lou in this home.

It appears that this house was built between 1911 and 1928. The Sanborn Fire Insurance Maps of 1911 and before show another house at this location.
| | |
| --- | --- |
| | Contributed by rkohler3 on 11/19/09 - Image Year: 1992 |
| | Contributed by rkohler3 on 11/19/09 - Image Year: 1992 |
| | Contributed by rkohler3 on 10/8/12 - Image Year: 2012 |
| | Contributed by rkohler3 on 5/23/14 - Image Year: 2007 |
| | Contributed by rkohler3 on 11/23/09 - Image Year: 1885 |
| | Contributed by rkohler3 on 11/23/09 - Image Year: 1889 |
| | Contributed by rkohler3 on 11/23/09 - Image Year: 1904 |
| | Contributed by rkohler3 on 11/23/09 - Image Year: 1911 |
| | Contributed by rkohler3 on 11/23/09 - Image Year: 1928 |