307 Milford Street
Milford St.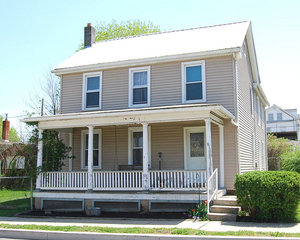 Click On Image To Enlarge
This house sits near the middle of the south side of the 300 Block of Milford Street. For a number of decades in the last century, the house was the home of the "Pete" Crimmel family.

This house was built before 1885 because it appears on the Sanborn Fire Insurance Map of that year.
| | |
| --- | --- |
| | Contributed by rkohler3 on 11/19/09 - Image Year: 1992 |
| | Contributed by rkohler3 on 11/19/09 - Image Year: 1992 |
| | Contributed by rkohler3 on 5/23/14 - Image Year: 2007 |
| | Contributed by rkohler3 on 11/23/09 - Image Year: 1885 |
| | Contributed by rkohler3 on 11/23/09 - Image Year: 1889 |
| | Contributed by rkohler3 on 11/23/09 - Image Year: 1904 |
| | Contributed by rkohler3 on 11/23/09 - Image Year: 1911 |
| | Contributed by rkohler3 on 11/23/09 - Image Year: 1928 |