215 Milford Street
Milford St.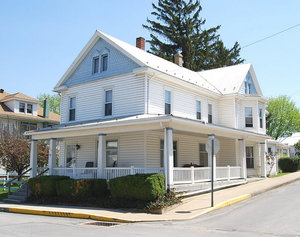 Click On Image To Enlarge
This is a large house on the southeast corner of Milford and Third Streets. The house may include two living units.

During the middle of the nineteen hundreds it served as the home of the Seven-Day Adventist Church.

The property has been owned for some time by Abraham and Carol (Isenberg) Harbst. Abe passed away in 2006.

This house was built about 1904 since the imprint of just the foundation appears on the Sanborn Fire Insurance Map of 1904. It is believed that the house was built by H. Clay Hower, whose lumber business was on the other side of Milford Street.
| | |
| --- | --- |
| | Contributed by rkohler3 on 4/10/10 - Image Year: 1920 |
| | Contributed by rkohler3 on 11/19/09 - Image Year: 1887 |
| | Contributed by rkohler3 on 11/19/09 - Image Year: 1992 |
| | Contributed by rkohler3 on 11/19/09 - Image Year: 1992 |
| | Contributed by rkohler3 on 7/2/12 - Image Year: 2012 |
| | Contributed by lsmom on 9/30/12 - Image Year: 2012 |
| | Contributed by rkohler3 on 5/23/14 - Image Year: 2007 |
| | Contributed by rkohler3 on 12/2/09 - Image Year: 1889 |
| | Contributed by rkohler3 on 12/2/09 - Image Year: 1904 |
| | Contributed by rkohler3 on 12/2/09 - Image Year: 1911 |
| | Contributed by rkohler3 on 12/2/09 - Image Year: 1928 |