210 Milford Street
Milford St.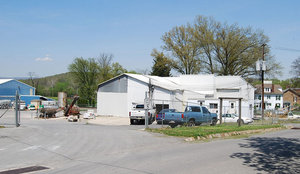 Click On Image To Enlarge
This site had a rich history because it was located on a siding of the Pennsylvania Railroad and near the terminal point of the Tuscarora Valley Railroad. At one time George B. M. Wisehaupt established a grain, coal and lumber business at this location.

Later it was owned by Horace Frazer (husband of Laura Wisehaupt), daughter of John and Mary Jane Wisehaupt. Later George Wisehaupt's son Frank acquired the mill, then John Stake, then Charles Goodman and later John Anstine.

Also, part of this property included the H. C. Hower Lumber Company.

Believe that the property is currently (2009) owned by H. Wayne Haubert.
Contributed by rkohler3 on 12/2/09 - Image Year: 1928

Contributed by rkohler3 on 9/22/09 - Image Year: 2009

Contributed by rkohler3 on 11/19/09 - Image Year: 1992

Contributed by rkohler3 on 11/19/09 - Image Year: 1992

Contributed by ray on 8/14/10 - Image Year: 1920

Contributed by rkohler3 on 12/2/09 - Image Year: 1889

Contributed by rkohler3 on 12/2/09 - Image Year: 1900

Contributed by rkohler3 on 12/2/09 - Image Year: 1904

Contributed by rkohler3 on 12/2/09 - Image Year: 1911

Contributed by rkohler3 on 12/2/09 - Image Year: 1928

Contributed by rkohler3 on 2/15/10