Sewer Main Installation
Market St.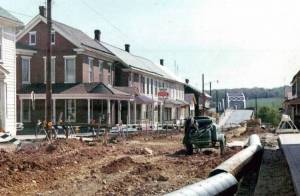 Click On Image To Enlarge
In 1967 the asphalt was removed from Market Street in Port Royal for the placement of a new sewer main beneath the surface. This project was in connection with a new sewage treatment plant that was being installed for the borough. The large horse chestnut trees that had lined Market Street had been removed earlier in 1965.
| | |
| --- | --- |
| | Contributed by rkohler3 on 11/12/19 - Image Year: 1967 |
| | Contributed by rkohler3 on 11/16/19 - Image Year: 1967 |
| | Contributed by rkohler3 on 11/16/19 - Image Year: 1967 |
| | Contributed by ray on 11/16/19 - Image Year: 1967 |
| | Contributed by rkohler3 on 11/12/19 - Image Year: 1967 |
| | Contributed by rkohler3 on 11/12/19 - Image Year: 1967 |
| | Contributed by rkohler3 on 11/12/19 - Image Year: 1967 |
| | Contributed by rkohler3 on 11/13/19 - Image Year: 1967 |
| | Contributed by ray on 11/13/19 - Image Year: 1967 |
| | Contributed by ray on 11/13/19 - Image Year: 1967 |
| | Contributed by rkohler3 on 11/13/19 - Image Year: 1967 |
| | Contributed by rkohler3 on 11/13/19 - Image Year: 1967 |
| | Contributed by rkohler3 on 11/13/19 - Image Year: 1967 |