Darwin Holmes "Skip" KOHLER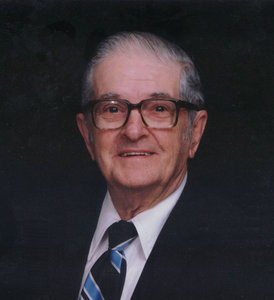 Click On Image To Enlarge
Darwin Holmes "Skip" Kohler, was the second child of Warren and Mary (McCormick) Kohler. He was born in Turbett Township on January 27, 1910.

He attended Mount Hope Elementary School and was graduated from Port Royal High School in 1927. In the meantime he had begun to drive a milk truck for Paul Meloy in 1926. In 1928 he secured employment with the Great Atlantic and Pacific Tea Company (A&P) and worked with store manager Elliott Towsey. During his years with A&P he served as vacation manager of a number of stores in the Central Pennsylvania area. Skip's (his nickname) tenure with A&P ended in 1948 when it was discovered that he had tuberculosis of the spine.

In 1950 Skip secured employment with the First National Bank of Port Royal, later to be merged with the Port Royal National Bank which was bought by the Juniata Valley Bank. In 1975 Skip retired from the Juniata Valley National Bank in Port Royal as Assistant Cashier. During his tenure at the bank, he was a founding member and director of the Tuscarora Valley Loan Company. After retirement from the bank, he drove cars for Leidy Chevrolet-Oldsmobile in Mifflintown Pa.

In March 1999, he fell and broke his leg at the home of his brother, Warren B. Kohler. He never returned home but for approximately six months lived at the Ohesson Manor Nursing Home in Lewistown, Pa. It was there he died on Friday Evening, October 8, 1999.

On February 20, 1934, Darwin Kohler married Dorothy Margaret Ard, daughter of William Henry and Edith Margaretha Haines Ard. This union produced just one child. He was born December 23, 1939 and was named Warren Ray Kohler after his two uncles, Warren B. Kohler and S. Ray Ard.
| | |
| --- | --- |
| | Contributed by rkohler3 on 9/20/09 - Image Year: 1911 |
| | Contributed by rkohler3 on 9/20/09 - Image Year: 1912 |
| | Contributed by garthe on 9/21/09 - Image Year: 1927 |
| | Contributed by rkohler3 on 5/23/18 - Image Year: 1927 |
| | Contributed by rkohler3 on 4/4/12 - Image Year: 1929 |
| | Contributed by rkohler3 on 9/20/09 - Image Year: 1930 |
| | Contributed by rkohler3 on 4/4/12 - Image Year: 1930 |
| | Contributed by rkohler3 on 4/4/12 - Image Year: 1940 |
| | Contributed by rkohler3 on 9/20/09 - Image Year: 1962 |
| | Contributed by rkohler3 on 9/20/09 - Image Year: 1962 |
| | Contributed by rkohler3 on 3/17/17 - Image Year: 1962 |
| | Contributed by rkohler3 on 4/7/12 - Image Year: 1990 |
| | Contributed by rkohler3 on 6/24/12 - Image Year: 1992 |
| | Contributed by rkohler3 on 4/4/12 - Image Year: 1999 |
| | Contributed by rkohler3 on 2/25/18 - Image Year: 1927 |