William E. "Bill" COLLEDGE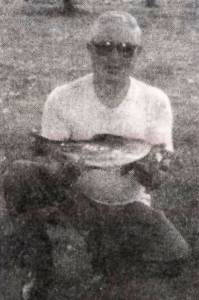 Click On Image To Enlarge
OBITUARY for WILLIAM E. ?BILL? COLLEDGE

William E. "Bill" Colledge, 82 yrs., of Port Royal, PA, passed away Friday morning, September 6, 2019, at Geisinger-Lewistown Hospital.

Born on May 4, 1937 in New Germantown, Perry County, he was the son of the late Amos A. and Helen (Robinson) Colledge.

Surviving are his loving wife, Bertha R. (Leacy) Colledge; one son, Michael S. Colledge and wife Lynda of Shermansdale; two daughters, Malinda Collier and husband Alan of Landisburg, and Cindy K. Colledge of Port Royal.

Other survivors include four grandsons, Ryan Colledge, Eric Colledge, Joseph Holley, Jr., and Christopher Wayavong; one granddaughter, Rachelle Wayavong; four great-grandchildren; and a sister, Jo Ann Fyler of Dillsburg.

A brother, Richard A. Colledge preceded him in death on July 21, 2019.

Bill was a graduate of Blain Union High School, Blain.

Retiring from the Roman Mosaic Tile Company in Manheim, Bill worked as a floor tile installer. He belonged to Local No. 5 Tile Setters Union.

His memorial service will be held 7 p.m., Thursday, September 12, 2019 at the Rex Funeral Home in Port Royal, with Pastor Jerry L. Conley officiating.

A visitation will precede the service from 6 to 7 p.m. at the funeral home.

Memorial donations may be made in Bill?s name to Rock Assembly of God Church. 5082 Rock Church Rd., Mifflin, PA 17058.