Harold R. KUHN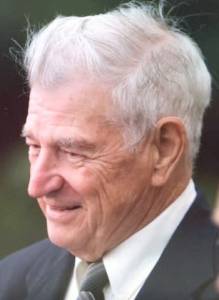 Click On Image To Enlarge
OBITUARY for HAROLD R. KUHN

Harold R. Kuhn, of Port Royal, passed peacefully while surrounded by loved ones on April 27, 2019 at the age of 92.

Born and raised in Perry County, Harold was the son of the late George Washington Kuhn and Florence Matilda Cooney. One of 12 children, Harold was preceded in death by his brothers Raymond, Clyde, and Wesley and sisters Gladys, Mary Anne, Marjorie, Dorothy, Elsie, Caroline, Rosie, and Goldie.

Harold attended the Green Grove School and graduated from Blain High School. He enlisted in the United States Navy during World War II, serving on the Monitor, the Hause and the Monongahela. Harold was awarded four bronze stars for active service in five major Asiatic Pacific invasions, as well as the bronze star for the Philippine Liberation Campaign, for which he received a Presidential Citation from the President of the Philippines.

Following World War II, Harold married Gloria Alta Trostle of New Germantown, in 1946. Shortly after, they relocated to Connecticut, where they lived for 50 years before returning to Pennsylvania. Harold is survived by his wife of 73 years, Gloria, and four children: Kathleen Bouchard of Cheshire, CT; Jill Fitzgerald Odhner, of Brooklyn, NY; Richard G. Kuhn of Fairfield, CT; and Jean Hughes, of Brookfield, CT. He was predeceased by one son, Harold R. Kuhn Jr., of Naugatuck, CT. In addition, Harold is survived by 10 grandchildren and six great-grandchildren, as well as many nieces and nephews.

An avid sportsman, Harold traveled the United States and Canada to hunt and fish, often accompanied by his sons, nephews and grandsons who shared his passion. He also enjoyed gardening, was a crossword enthusiast, a NASCAR fan and a voracious reader. Harold was well known for his quick wit and keen sense of humor - his smile lit up a room - followed by his hearty laugh. He is remembered for his kindhearted ways and welcoming spirit.

Harold was a member of Cedar Grove Brethren in Christ Church in Mifflintown. A gathering to celebrate Harold will be held on Saturday, May 25, 2019 Memorial Day weekend at the family home.

Harold was loved dearly by his family and friends; he will be fiercely missed.

Arrangements are handled by the Nickel-Lochstampfor Family Funeral Home Inc., 3626 Sherman?s Valley Road, Loysville, PA, 17047.