306 Tuscarora Street (Fiddler's Green)
Tuscarora (Fiddler's Green) St.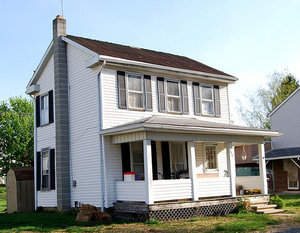 Click On Image To Enlarge
Mary Towsey owned this house. Mary was a nurse and always worked away from town, but visited Port Royal occasionally and stayed in this house. The house is now owned by Ruth Roe and is used as a tenant house.

(Recollection from JoAn Bashore Slautterback of the houses, owners, and occupants of Fiddlers Green, from the late 30s and 40s. as published in the Port Royal Times 2004.)

This house was built before 1885 because it appears on the Sanborn Fire Insurance Map of that year. It appears that the house was enlarged between 1904 and 1911.
Contributed by rkohler3 on 5/5/14 - Image Year: 2007

Contributed by rkohler3 on 11/29/09 - Image Year: 1885

Contributed by rkohler3 on 11/29/09 - Image Year: 1889

Contributed by rkohler3 on 11/29/09 - Image Year: 1904

Contributed by rkohler3 on 11/29/09 - Image Year: 1911

Contributed by rkohler3 on 11/29/09 - Image Year: 1928