Health Center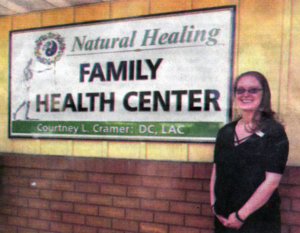 Click On Image To Enlarge
DR. CRAMER OPENS NATURAL HEALING FAMILY HEALTH CENTER IN PORT ROYAL

Alter graduating from Juniata High School, Courtney Cramer attended the Indiana University of Pennsylvania where she graduated summa cum laude with a bachelor's degree in the Natural Sciences. She continued her education in the Finger Lakes region of New York state where she attended New York Chiropractic College. After a year there, she decided to broaden her horizons and entered the acupuncture program at the Finger Lakes School of Acupuncture and Oriental Medicine. ln December of 2017, she graduated with honors from NYCC with a Doctorate in Chiropractic Medicine. In April of 2018, she graduated with honors from Finger Lakes School of Acupuncture and Oriental Medicine with a master's degree in Acupuncture.

While working her way through these two programs, she
took many outside seminars and earned some certifications.

In December of 2016, she earned her certification in Whole Foods Nutrition. In April of 2017, she eamed her certification in Sports Science and Human Performance. Then, in May of the same year, she received her certification in Applied Kinesiology, followed by certification in RockTape that October.

The Port Royal practice will offer a number of services that includes: Chiropractic Techniques, Acupuncture Techniques, Nutritional Consultations with Diet Plan Guidelines, Foot Detoxification, doTERRA Essential Oils Aromatherapy and several other services.