Avis A. (LEACH) GEEDY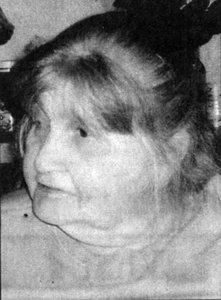 Click On Image To Enlarge
OBITUARY for AVIS A. GEEDY

Avis A. Geedy, 86, formerly of Mifflintown and Port Royal, passed away 8:20 a.m., Wednesday, Jan. 17, 2018, at Locust Grove Retirement Village.

The daughter of the late Joseph and Edna (Gaul) Leach, Avis is survived by the following: children, Esther J. Palm and husband, James, of Mifflin; Vonnie M. Bowsman and husband, Merle, of McClure; Nevin E. Geedy III, of Mifflintown; and John R. Geedy, of Port Royal; 15 grandchildren; and 32 great-grandchildren.

Her funeral will be held at 2 p.m. Monday, Jan. 22, 2018, at Rex Funeral Home in Port Royal, with Pastor Gary L. Krabill officiating.

Burial will take place at Westminster Presbyterian Cemetery, Mifflintown.

A viewing will be held at the funeral home from 1 p.m. until the time of service.