Patrick S. BRYNER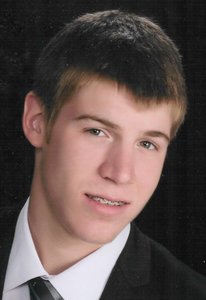 Click On Image To Enlarge
OBITUARY for PATRICK S. BRYNER

Patrick S. Bryner, 22, of Port Royal passed away Thursday, Sept. 28, 2017.

Born June 10, 1995, in Lewistown, Mifflin County, he was a son of his mother, Marcie A. (Lewis) Hack and his stepfather Brad Hack, and his father Jeffrey S. Bryner and his fiancee, Jamie Brown, all of Port Royal.

In addition to his parents he is survived by, a sister; Mandy N. Bryner of Port Royal, maternal grandmother; Louann Lewis of Port Royal, paternal grandmother; Karen Chipps of Warrenton, Va., paternal great-grandmother; Edwina "Eddie" Bryner of Port Royal, maternal aunt; Lisa Searer of Hermosa Beach, Calif., paternal aunt; Shannon Bryner of Fredicksburg, Va., great aunt; Connie Fenner of Port Royal. He is also survived by his canine companions; Beau and Bounder.

Patrick graduated from Juniata High School in 2014 and was a proud and dedicated member of the Friendship Fire Company No. 1, Port Royal. From the age of 10, Patrick enjoyed racing, starting with go-carts and advancing to the Super Dirt Late Model division. In 2008, while driving his go-cart, he became the Greenwood Speedway track champion and in 2011 he was named, Port Royal Speedway Rookie of the Year in the Super Dirt Late Model division. Patrick was the fourth generation race car driver of the Bryner family. He was mechanically inclined as well as a gifted machinist. He loved working with his hands and working on his race car.

Mr. Bryner was employed by NTM Inc. of Newport as a machinist.

A funeral service will be held at 10:30 a.m. Tuesday, Oct. 3, 2017 from the Port Royal Lutheran Church with Rev. Charles Hershberger officiating. Interment will follow in the Old Church Hill Cemetery, Port Royal.

A visitation will be held from 4 until 8 p.m. Monday, Oct. 2, 2017 from the Friendship Fire Company, Social Hall, 212 West 4th St., Port Royal.

For those who wish memorial donation may be made in Mr. Bryner's memory to Friendship Fire Company No. 1, 212 West 4th St., P.O. Box 274, Port Royal, PA 17082.

Arrangements have been entrusted to the Brown Funeral Homes Inc., 100 Bridge St., Mifflintown.

Online tributes and condolences may be sent to the family by visiting www.brownfuneralhomesinc.com.
| | |
| --- | --- |
| | Contributed by rkohler3 on 10/4/17 - Image Year: 2017 |
| | Contributed by rkohler3 on 10/4/17 - Image Year: 2017 |