309 Tuscarora Street (Fiddler's Green)
Tuscarora (Fiddler's Green) St.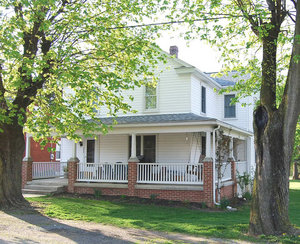 Click On Image To Enlarge
Melvin and Sarah Crimmel owned and occupied this property all the while I was growing up. Their children, Helen (now by marriage Helen Sieber) and her brother Bob Crimmel were and still are special friends of mine. The Crimmels moved to this property from Locust Run after purchasing it from Led Miller who built the home. So as not to be confused, this is the same Crimmel family who lived in the Bill Rice property on Tuscarora Street and then moved to Locust Run for a few years before moving back to Tuscarora Street. Jim and Alison Ziegler are the present owners of this property and reside there with their twin sons.

(Recollection from JoAn Bashore Slautterback of the houses, owners, and occupants of Fiddlers Green, from the late 30s and 40s. as published in the Port Royal Times 2004.)

This house was built between 1911 and 1928 because it does not appear on the Sanborn Fire Insurance Map of 1911 but does appear on their 1928 map.
| | |
| --- | --- |
| | Contributed by rkohler3 on 5/5/14 - Image Year: 2007 |
| | Contributed by rkohler3 on 11/29/09 - Image Year: 1885 |
| | Contributed by rkohler3 on 11/29/09 - Image Year: 1889 |
| | Contributed by rkohler3 on 11/29/09 - Image Year: 1904 |
| | Contributed by rkohler3 on 11/29/09 - Image Year: 1911 |
| | Contributed by rkohler3 on 11/29/09 - Image Year: 1928 |