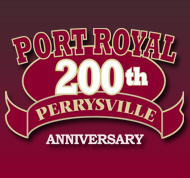 Annie Elizabeth (MCWILLIAMS) RICE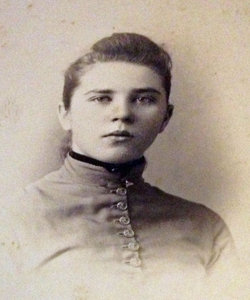 Click On Image To Enlarge
OBITUARY for ANNIE ELIZABETH MCWILLIAMS RICE

MRS. SILAS A. RICE PASSES AWAY

Mrs. Annie Elizabeth McWilliams Rice, wife of Mr. Silas A. Rice, died at her home at Port Royal, Pa., Tuesday evening, July 18, 1944, after a brief illness of a cerebral hemorrhage, with which she was stricken the previous Saturday, aged 70 years, 9 months and 23 days.

The deceased was a daughter of the late David B. and Mary Belle Crozier McWilliams, and was born at Oakland Mills, Pa. She received her early education in the public schools, and later attended Tuscarora Academy and Millersville Normal School, and for eight years previous to her marriage was a successful schoolteacher in the schools of Juniata County. She was a faithful member of the Port Royal Lutheran church for many years and a member of the Friendship Sunday school class and the Ladies Missionary Society.

Her cheerful, beautiful, helpful life; her devotion as wife and mother; her kindness to everybody, will long linger as a fragrant memory in the home which her presence brightened and which death has now darkened. Her more public life and her work in the church and the two societies was well known to all, and on that one need not to dwell. Though she is gone her record has been made, and will remain a lasting treasure.

She is survived by her husband, Mr. Silas A. Rice, and one daughter, Helen C. at home and one son, Robert, of Elizabethtown, Pa., and one grandchild; also by two sisters, Mrs. Harry (Sarah) Swovelin and Mrs. J. C. (Belle) Asper, both of Harrisburg, Pa.

Funeral services were held at the home Friday morning at 10:30 o'clock, conducted by her pastor, Rev. Robert R. Clark, after which interment was made in [New] Church Hill cemetery.

The pallbearers were: C. L. Meloy, Cloyd Rice, Blaine Shover, W. E. Towsey, M. W. Long and G. M. Runkle.

Relatives and friends from outside of the county who attended the funeral were: Mr. and Mrs. H. N. Swovelin, Mr. and Mrs. J. C. Asper and Mrs. Amanda Meminger, and Mrs. Bessie Burk of Harrisburg, Mr. and Mrs. R. M. Barton, Duncannon, Mr. and Mrs. Miles Rice, Mr. and Mrs. Edward Weibley and son Wayne, Ickesburg, Mr. and Mrs. James Freeman and daughter, Miss Faye Freeman, Loysville, Mr. and Mrs. Edward Rice and son Leo, Mr. and Mrs. John Martin, Blain, Mr. and Mrs. Jesse Groninger and daughter, Mrs. T. M. Alexander, Burnham, Mr. and Mrs. Charles Stewart, Milroy.
| | |
| --- | --- |
| | Contributed by rkohler3 on 1/20/17 - Image Year: 1890 |