Ira Glenn RITZMAN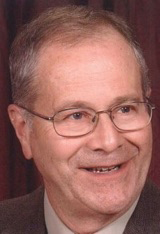 Click On Image To Enlarge
OBITUARY for IRA GLENN RITZMAN

Ira Glenn Ritzman, 72, of Paradise, PA, passed away Monday, May 25, 2015 at Lancaster Regional Medical Center.

Born in Port Royal, he was the son of the late lra M. and Margaretta J. McClure Ritzman.

His wife, the late Doris Kepner Ritzman, passed away February 3, 2003.

Surviving are: five children, Michael G. Ritzman and wife Melanie of Christiana, Christine C. Lacock and husband Scott N. of New Miiport, Jennifer M. Doering and husband Timothy P. of Pottstown, Peggy S. Lyons and husband Gerald A. II of Catawissa, and Bonnie L. Craddock and husband Benjamin S. of Lancaster; a brother, John M. Ritzman and wife Luella of Mifflintown.

Glenn was a graduate of Port Royal [Tuscarora Valley] High School and Susquehanna University.

He was a chemical engineer at FiCA/Burie industries for 42 years.

Mr. Ritzman was a member of Calvary Monument Bible Church, where he served as a Sunday school teacher and youth leader for 40 years. He found great peace and joy in his ever-faithful God and loved declaring His power to the next generation.

in his spare time he enjoyed hunting, photography, and basketball.

A funeral service took place at Calvary Monument Bible Church, Paradise, on May 29. interment was in adjoining cemetery.

Arrangements were by Shivery Funeral Home, lnc., Christiana & Paradise.

Contributions may be made to The Gideons international at gideons.org.