Mary Margaret "Peg" (SANKEY) SHERLOCK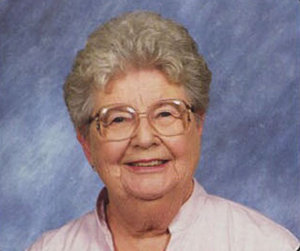 Click On Image To Enlarge
OBITUARY for MARY MARGARET "PEG" SHERLOCK

Mary Margaret "Peg" Sherlock died Thursday June 20, 2019, at the age of 96.

She was born to Foster John Sankey and Sara Katherine (Kretzing) Sankey, of Reedsville, on Feb. 20, 1923.

She was predeceased by her husband, Harold Richard Sherlock Sr., sisters Kathryn Gahagan and Helen Jordan, son, Warren Alan Sherlock and grandson, Nathaniel Robson. She was mother to Harold Richard Sherlock Jr. (late Frances), Nancy Sherlock-Robson (Keith), Mark Howard Sherlock (Cecile), Margaret Sherlock McCarney (Thomas), and Phillip Bruce Sherlock (Susan). In addition, she was grandmother to 12 grandchildren and 15 great-grandchildren.

She is survived by her brother, Foster Calvin Sankey and many nieces and nephews.

Peg was a 1940 graduate of Reedsville High School and married the love of her life, Harold, in 1944. After WWII, they moved to Juniata County and raised their six children. Peg worked briefly for Montgomery Ward, in Lewistown, before accepting the position as secretary/clerk/ receptionist for the Department of Health in Juniata County, where she worked until retirement. Peg was a charter member of the Juniata County Business and Professional Women's Club.

Until last year, she was an active member of Matamoras United Methodist Church. Her faith was the foundation of her life and a source of comfort throughout.

She loved her family and rejoiced in her grandchildren and great- grandchildren. Of special delight to all parties involved was the summer vacation week each grandchild enjoyed at Grammy's. As time passed, she was able to meet all 15 great grandchildren when their parents came to visit. She enjoyed traveling to visit relatives and see the sights throughout her life. Peg also enjoyed a lifelong penchant for picnicking in state parks. A marvelous cook, one of her most famous creations was her unparalleled chocolate angel food cake.

Relatives and friends are invited to a viewing 6-8 p.m., Monday, June 24 at Rex Funeral Home in Port Royal.

Funeral service will be 10:30 a.m. Tuesday June 25 at Matamoras United Methodist Church in Spruce Hill. Interment will be at Lower Tuscarora Presbyterian Church in Academia. In lieu of flowers, contributions can be made to the Nate Robson Memorial Scholarship Fund, c/o Bethel Hill UMC, 2000 Bethel Road, Lansdale, PA 19446.