Isabel (MOYER) YODER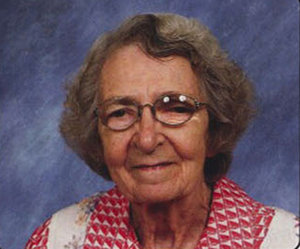 Click On Image To Enlarge
OBITUARY for ISABEL M. YODER

PORT ROYAL - Isabel M. Yoder, 95, formerly of Port Royal, passed away Saturday 11:55 p.m., June 14, 2014, at Brookline Manor, Mifflintown.

Born Aug. 23, 1918, in Beale Township, Juniata County, she was the daughter of the late Harry Norman and Anna M. (Kershner) Moyer.

Her husband, Lloyd E. Yoder, died April 6, 1992.

Surviving are: children, Rodney L. Yoder and wife, Shirley Ann, and Amanda A. Hooper and husband, Dave, both of Port Royal; two grandchildren; six great-grandchildren; five great-greatgrandchildren; five step-grandchildren; four step-great grandchildren; and one step great-great grandchild.

Isabel was preceded in death by: two brothers, Jerome and Harry R. Moyer, and a sister, Mary Yoder.

She was a member of the Matamoras United Methodist Church, and Spruce Hill Grange No. 772. She was also an avid gardener.

Services will be held at 10:30 a.m. Thursday, June 19, 2014, at the Rex Funeral Home in Port Royal with the Rev. Charles L. Hershberger officiating.

Interment will be in the Old Church Hill Cemetery, Port Royal.

A viewing will take place Wednesday evening from 7 to 9 p.m. at the funeral home.

Memorial contributions may be made in Isabel's memory to Matamoras United Methodist Church, c/o Lee Ellen Foose, 40 Pine Lane, Port Royal, PA 17082.