School - PRHS - 1910 School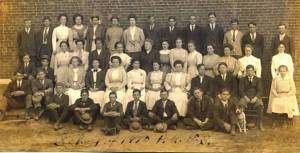 Click On Image To Enlarge
PORT ROYAL HIGH SCHOOL - by G Cecil Weimer

(First published in the Port Royal TIMES, Wed, January 2, 1974 in Weimer's column: THOSE WERE
THE GOOD OLE DAYS)

The modern one-room school house has better equipment, bright walls, and other facilities, than the Port Royal High School had in my student years.

The school began in 1909. Prof. George G. Lyter was the principal for a year or two before the high school got organized. He had the A room (fifth and sixth grade) in the elementary school.

ln order to have a student body, young people who had attended private schools in the academy building were put in the upper classes of the new school. Students who had completed the sixth grade made up the sophomore class. And, those who were in the sixth grade became freshmen. This group was the first four year class that graduated from P.R.H.S. ih 1913.

The school met in two rooms - a home room and a smaller one. Classes met in these rooms. There was no library, gymnasium, laboratories, athletic field, running water, and other modern facilities.

The student body was less than 75 and the faculty numbered two. There were no frills in the curriculum and other student activities. For music we sang for 15 minutes at the beginning of the afternoon session. We sang such songs as "Juanita" "Drink To Me Only With Thine Eyes", and were accompanied by a reed pump organ.

There was no coach or any athletics. However, the students, on their own had a football and a baseball team. They played neighboring high school teams, Carson Long at New Bloomfield. We thought we were scheduling a high school at Yeagertown, but when we got on the field we found we were playing a team of young men who worked in the Burnham [Standard] Steel Mills.

There were no uniforms, (nor pads of any kind} not to mention helmets and face guards. The squad consisted of 11 men who were the offensive team as well as the defensive. Some of us cut out strips of leather and nailed them to the soles of our shoes for cleats.

Baseball was much the same story. We provided our own equipment and uniforms. I wore a pair of shoes, one had belonged to an older player and the other to another player. The team carried through the summer.

We had a good team and won a high percentage of the games we played; ln spite of our lack of many things that today are looked upon as necessary, we got the basic studies - Latin, German, physics, plain and solid geometry, agriculture, English, algebra, and spelling. Chemistry was not offered the first year or two when a change in the faculty brought a teacher who had had chemistry. That lasted only a year or two. Then the relacement could not teach chemistry. But the principal who had not had chemistry attempted to teach the class. We had no text book or laboratory. We learned what HCL, H20, NACL stood for. Imagine what a hard time those of us who offered chemistry for college entrance!

lt is surprising that graduates did well in college. Some of them became doctors, clergymen, teachers, college professors, and deans and acting presidents of college, Phi Beta Kappa, and candidates for the Rhodes Scholarship, successful businessmen and farmers.