Clothing Store - E L Beaver
Market St.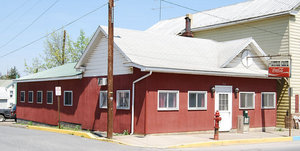 Click On Image To Enlarge
Samuel S. Beaver built this store building in 1912. His business had been located directly across Market Street in a location that would eventually house the First National Bank Building.

The following note was included in the Port Royal Times of March 27, 1912: "Samuel S. Beaver was in New York City this week buying a complete stock of goods for his gents' clothing and furnishing store which he will open April 1st."

E. Luther Beaver purchased the store from his brother Sam and operated the clothing store in Port Royal for over twenty years. Upon Luther's retirement he sold the business to Glen Kepner, Sr.
| | |
| --- | --- |
| | Contributed by rkohler3 on 3/5/13 - Image Year: 1927 |
| | Contributed by rkohler3 on 3/6/13 - Image Year: 1930 |
| | Contributed by rkohler3 on 3/11/13 - Image Year: 1936 |
| | Contributed by rkohler3 on 3/13/13 - Image Year: 1949 |
| | Contributed by rkohler3 on 3/14/13 - Image Year: 1953 |
| | Contributed by rkohler3 on 3/7/13 - Image Year: 1955 |