George EBERSOLE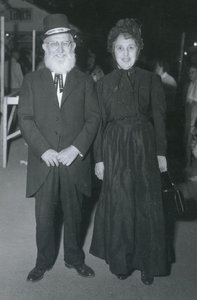 Click On Image To Enlarge
OBITUARY for GEORGE MARTIN EBERSOLE

GEORGE M. EBERSOLE, 84, 407 Market St., Port Royal, died Sunday, July 20, 1986 at Lewistown Hospital.

He was born January 2, 1902 in Annville. the son of the late Aaron Ebersole and Lillie (Peffer) Ebersole. His wife Elizabeth J. (Ard) Elbersole survives.

In addition to his wife he is survived by one sister, Mrs. Clarence (Carrie) Singer, Meda Nipple Convalescent Home, RD1, Thompsontown.

He was preceded in death by a son, Ralph E. Ebersole. who died March 23 1970.

He retied in 1967 from the former American Viscose Corp., Lewistown, after 23 years of service

He was a member of the Port Royal Methodist Church, the Men's Bible Class of the church and was a former church choir member. He was a life member of the Ambulance Club of the Friendship Fire Co., Port Royal.

Services will be held Wednesday, July 23, at Rex Funeral Home, Port Royal with the Rev. Jack L. Rider officiating. Interment will be in New Church Hill Cemetery, Port Royal.
| | |
| --- | --- |
| | Contributed by rkohler3 on 2/14/13 - Image Year: 1962 |
| | Contributed by rkohler3 on 3/17/17 - Image Year: 1962 |
| | Contributed by rkohler3 on 3/17/17 - Image Year: 1962 |