Lloyd Eugene YODER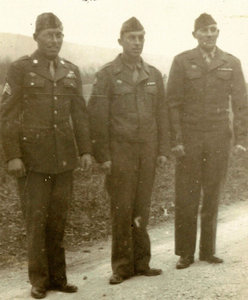 Click On Image To Enlarge
OBITUARY for LLOYD EUGENE YODER

LLOYD E. YODER, 81, of Port Royal RD1, died at 5:20 p.m. Monday, April 6, 1992, at Lewistown Hospital.

Born September 15, 1910, in Spruce Hill Township, Juniata County, he was a son of the late John E. and Charlton B. [Weimer] Yoder. His wife, Isabel M. [Moyer] Yoder, whom he married December 15, 1945 survives.

Also surviving are: children, Rodney L. Yoder and Mrs. David [Amanda] Hooper, both of Port Royal RD1; brothers and sisters, Carl Y. Yoder, Millerstown, RD1, Lester Yoder and Leroy Yoder, both of Port Royal RD1, Mrs. Lena Houser, Oklahoma City, OK, Mrs. Gurvis [Vivian] Harper, Largo, FL; two granddaughters.

He was preceded in death by two brothers, Graydon Yoder and Raymond Yoder.

He retired in 1971 from the Pennsylvania Department of Transportation, Mifflintown, as a foreman.

He was a World War II US Army veteran, having served in Europe.

He was a member of the Matamoras United Methodist Church.

Services were held Thursday at the Rex Funeral Home, Port Royal, with the Rev. Gerald D. Wagner and Pastor David Biser officiating. Interment will be in the Old Church Hill Cemetery, Port Royal.

Full military graveside services were conducted by the Juniata County Veterans Council.