Leroy John YODER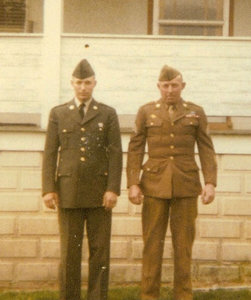 Click On Image To Enlarge
OBITUARY for JOHN LEROY YODER

LEROY JOHN YODER, 81, of Port Royal RR1, died at 5:01 p.m. Saturday, March 29, 1997, at Brookline Manor Convalescent Home, Mifflintown RR1.

Born February 8, 1916, in Port Royal, he was a son of the late John E. and Charlotte [Weimer] Yoder.

Surviving are: brother and sisters, Lester W. Yoder, Port Royal RR1, Mrs. Lena Houser, Oklahoma City, OK, Mrs. Vivian Harper, Largo, FL.

He was preceded in death by four brothers.

He was a retired farmer and was a member of Matamoras United Methodist Church, Port Royal RR1

Services will be held at 2:00 p.m. Wednesday, April 2, at Rex Funeral Home, Port Royal, with Rev. Frank J. Swartz officiating. Interment will be in New Church Hill Cemetery, Port Royal.

Family will receive friends from 1:00 p.m. until the time of services Wednesday at the funeral home. There will be no viewing.