Robert Graham ROBINSON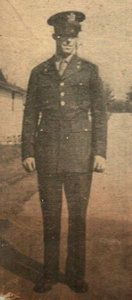 Click On Image To Enlarge
Robert Robinson was a son of Robert Bruce and Frances L. (Graham) Robinson. He was born May 23, 1904 and died May 21, 1980. He was married to Elizabeth Jane McNeil. They had a son "Jack".

Robert was a 1922 graduate of Port Royal High School and Penn State College.

He served in the military during World War II as a First Lieutenant and Captain.