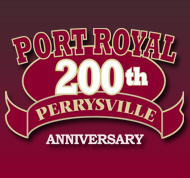 David Esh LEE
Click On Image To Enlarge
David Lee is a son of Stanley L. and Frances (Insley) Lee. He was a 1961 graduate of Tuscarora Valley High School. He married Pauline "Polly" Burns. David operated a photograph studio in Port Royal for much of his adult life.

DAVID LEE RETIRES, ENDING A PHOTOGRAPHIC CAREER THAT SPANS OVER 50 YEARS

(The TIMES of Port Royal – August 16, 2017)
by Deb Brackbill

The strobe lights have gone out in the Juniata Photo Service studio and David Lee has retired after over 50 years in the photography business.

David, who has traced his ancestry, can tell you that photography runs in his blood. In fact, his heritage in photography goes back further than anyone else in the United States! His great-great grandfather, Henry Earle lnsley, is credited for inventing the daguerreotype, and holds several patents for the process. The lnsley family, along with the Prosch family, all relatives of David are still revered in the history of photography and David's great grandfather, Henry A. lnsley is buried in Academia Cemetery.

Early in life, David's mother introduced him to photography and he was a natural—-taking pictures all through school. In fact, his photography led him to be recognized by the Juniata Sentinel who asked him to write a column for the newspaper when he was in the 10th grade.

His first camera, a Brownie Hawkeye, served him well, and he made up his
mind that what he wanted in life was to be a photographer. In fact, he was taking wedding pictures while still in school.

One hitch to his plans was the fact that his grandmother, Helen lnsley, was insistent that he not become a photographer! So, when he graduated from Tuscarora Valley High School in 1961, he enlisted in the Army as an electronics repairman. He got the schooling he was promised but when it was discovered that he knew how to type, he was placed in an electronics shop and never saw a day in the field.

With his mind still made up to go into photography, he left the military in July 1964 and approached his grandmother about going to photography school. She reluctantly paid his tuition and David began studies in New York at the Institute of Photography on 33rd St. After 13 weeks of studies (with him living in the YMCA) he came back home. He acknowledges that the training he got gave him a good foundation in photography fundamentals but much of what he learned was "antiquated".

Upon returning to Juniata County, David opened his first studio at 104 N. Main St. in Mifflintown, next door to the Juniata Sentinel, and he did a bit of work for the paper. By the end of June 1966, he moved his studio to Market St. in Port Royal, later moving to 5th and Milford St.

In September of 1968, he married his wife, Polly, and didn't just get a wife, he got a partner in the photography business. He credits her with much of the success of the business and it truly became a family affair when the kids were born. Daughter, Emily, was only 13 days old when she attended her first wedding. While David and Polly tended to business, she laid in her bassinet. Son, Stanley, also went along with the family to events and later on, he worked with his Dad for six weeks before deciding that the photography business just wasn't for him. He now works in sales at Empire Kosher and Emily is in the Air Force, stationed in Illinois.

In 1979, David and Polly built the studio at their home in Blue Spring Hollow, [Turbett Township] fulfilling a dream of David's. The business was changing and David wasn't thrilled with all the changes. He states, "I went kicking and screaming to digital" and it wasn't till the lab stopped processing film that he bought his first digital camera. To this day, he says that there are things he likes about it and things he doesn't like about it.
Throughout his career, he has stuck with cameras he could depend on-Kodak, Agfa, GAF (Anscomatic) and Canon.

He and Polly have both belonged to photography associations including Professional Photographers of America and Professional Photographers of PA. He has held offices in the State Association and the N.E. (PA) Professional Photographers Association as has Polly. David has even been given the National Award for Meritorious Contributions to Professional Photography.

Over his career, David got some additional education by working for Olan Mills and he has taken pictures for nursery schools, weddings, anniversaries, preschools, and three dance studios as well as at places like McAlisterville Shoe Store, Ben Franklin, and K|inger's Dept. Store in Selinsgrove. He has had a few health problems, including a heart attack and
bypasses, back surgery, and a knee replacement, but he never let them interrupt his work. Within two weeks of his bypasses, he was back in the studio taking make up pictures for Miss Margaret's dance students. (Oh, and something that everyone doesn't know about David is that he doesn't have a belly button! if you want the full story, you'll have to ask him!)

By the 1990's he realized he had to let something go and he quit doing wedding photographs. He adds that taking pictures of kids were his favorite assignments and the hardest to give up. Retirement will mean some big changes for the Lees but nothing too big. Polly is still baby sitting and intends to continue doing that for a couple of years yet and David is enjoying having more time to work on his genealogy hobby.

Some of his favorite possessions have come from his family searches including a signed letter from John Quincy Adams thanking Henry lnsley for copying a painting of his sister and two daguerreotypes done by his ancestors. David also enjoys working with electronics and plans to tinker around with that.
| | |
| --- | --- |
| | Contributed by rkohler3 on 1/17/13 - Image Year: 1963 |
| | Contributed by rkohler3 on 8/22/17 - Image Year: 2017 |