Marlin Book "Joe" FRANKHOUSE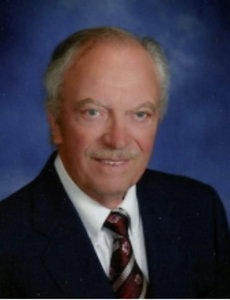 Click On Image To Enlarge
OBITUARY for MARLIN B. FRANKHOUSE

Marlin B. Frankhouse, 85, of Mechanicsburg died Monday, April 11, 2016.

He was born June 29, 1930 in Port Royal, PA to the late Joseph Pomeroy and Jane [Book] Frankhouse.

He is survived by his wife, Ann [Kildare] Frankhouse; a son, Dr. Joseph H. Frankhouse [Julie] of Portland, OR; a daughter, Diane F. 'Fox [David] of Lansdale; and five grandchildren, Alec, Alicia, Ryan, Sarah and Anna.

He was pre-deceased by his sister, Nedra Jane Lewis.

He was a 1948 graduate of Tuscarora Valley High School and a 1955 graduate of Bucknell University, where he played soccer and was active in the SAE fraternity. His college years were interrupted with service in the Korean War, when he enlisted and served in the Coast Guard,

It was at Bucknell that he met his wife of the last 59 years. Shortly after their marriage in 1957, Ann and Marlin settled in New Cumberland where they raised their family.

Marlin worked at AMP, Inc. in Harrisburg for almost his entire career. He rose through the ranks, attaining the title of Director of Corporate Marketing. He retired in 1991, whereupon he and Ann enjoyed retirement, inclusive of travel, golf, winters in Florida and their grandchildren. His passion was golf and cars. At age 80, he was able to drive an authentic stock car at Pocono and race his son at 150 mph. He won.

He was a member of Grace Lutheran Church in Camp Hill, AMP Romeo Club and the Masonic Blue Lodge.

Visitation will be at 2:00 p.m., with memorial services starting at 3:00 p.m. on Saturday, May 7 at Parthemore Funeral Home and Cremation Services, New Cumberland. Private internment will be at the convenience of the family in Rolling' Green Cemetery.

Memorial contributions may be made to Grace Lutheran Church, 1610 Carlisle Road, Camp Hill, PA 17011.

For more information or to send messages of condolence, visit wwwparthemore.com.
| | |
| --- | --- |
| | Contributed by rkohler3 on 10/11/12 - Image Year: 2012 |
| | Contributed by rkohler3 on 5/11/17 - Image Year: 1948 |
| | Contributed by rkohler3 on 10/11/12 - Image Year: 1948 |
| | Contributed by rkohler3 on 10/11/12 - Image Year: 1998 |
| | Contributed by rkohler3 on 10/11/12 - Image Year: 2008 |