614 Main Street
Main St.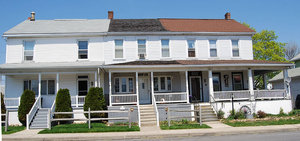 Click On Image To Enlarge
This triple property sits on the north side of the 600 Block of Main Street. 610 is to the right, 612 in the middle and 614 to the right.

During the 1940s, 50s and 60s, the the John Boyer family lived in 614 Main Street.

This triple house was built before 1889 since it appears on the Sanborn Fire Insurance Map of that year and subsequent years. Through 1928 the building is shown as a double house while it currently is a triple house.
| | |
| --- | --- |
| | Contributed by rkohler3 on 11/11/09 - Image Year: 2010 |
| | Contributed by rkohler3 on 11/11/09 - Image Year: 2011 |
| | Contributed by rkohler3 on 11/11/09 - Image Year: 2012 |
| | Contributed by rkohler3 on 11/11/09 - Image Year: 2013 |