J. Wayne "Brownie" MCCACHREN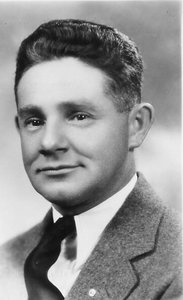 Click On Image To Enlarge
OBITUARY FOR JOSEPH WAYNE "BROWNIE" McCACHREN

Joseph Wayne "Brownie" McCachren 95, of Port Royal, died at 6:02 p.m. Tuesday, August 17, 1993 at his home.

Born September 22, 1897 in Port Royal, he was a son of the late George Albert and Emily Martha (Landis) McCachren. His wife, Elizabeth M. (Groninger) McCachren died December, 27, 1935.

Surviving are:children, S. Martha Kepner, and Mrs. Kenneth (Mabel Elizabeth) Esh, both of Port Royal, Mrs. Edward (Dorothy P.) Bush, Torrington, CT; eigth grandchildren; 21 great-grandchildren; and a great-great-grandson.

He was the last of his immediate family, having been preceded in death by a daughter, Ruth E. Taylor, April 13, 1981, and a grandson, Edward Bush.

He was a retired foreman, having worked for the Pennsylvania Railroad with 45 1/2 years of service.

He was a lifetime member of the Port Royal Methodist Church, a former member of the Port Royal Lions Club and the IOOF Lodge of Port Royal.

Services were held Friday at Rex Funeral Home, Port Royal, with Rev. Gerald D. Wagner officating. Interment was in Old Church Hill Cemetery, Port Royal [Turbett Township].
Contributed by rkohler3 on 8/26/19 - Image Year: 1955

Contributed by ranjude on 5/17/17 - Image Year: 1958

Contributed by ray on 8/27/19

Contributed by rkohler3 on 6/3/20 - Image Year: 1905

Contributed by ray on 8/27/19 - Image Year: 1951

Contributed by ray on 8/27/19 - Image Year: 1961

Contributed by rkohler3 on 1/27/20 - Image Year: 1990