David E. "Dave" FORRY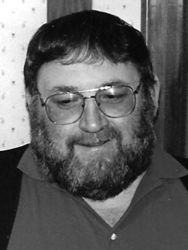 Click On Image To Enlarge
OBITUARY for DAVID E. FORRY

PORT ROYAL: David E. Forry, 53, of Port Royal, died Saturday, Oct. 23, 2010, in the emergency room of Lewistown Hospital.

Born March 13, 1957, in Lewistown, he is the son of Eugene and Mary (Peterson) Forry, of Port Royal. His wife, Donna J. (Kramer) Forry, whom he married June 23, 1978, survives.

Also surviving are two daughters, Jeannie Beward and companion Lisa Treaster, of Mifflintown, and Mary J. Warner and husband Doug, of Port Royal; brothers and sister, Dean Forry and wife Barb, Doug Forry and wife Tammy, and Denise Bomberger and husband Danny, all of Port Royal, and Darvin Forry and wife Teresa, of McAlisterville; and two granddaughters, Brianna Brubaker and Madison Warner.

He was preceded in death by an infant brother, Dennis Forry.

A 1975 graduate of Juniata High School, he worked as a truck driver and then in the shop of Protection Services Inc. (PSI), Harrisburg for 34 years.

Dave was president of the Juniata County Sportsmen's Association and very active on the Juniata County Agricultural Association Board working with the Port Royal speedway, the fair, and the horse races. He enjoyed NASCAR and other racing, hunting, four-wheeling and spending time with his granddaughters who were his pride and joy.

His funeral will be at 11 a.m. Tuesday, Oct. 26 at Guss Funeral Home, 20 S. Third St., Mifflintown, with Rev. Kenneth Kitzmiller officiating. Interment will be in Bethlehem Cemetery, Millerstown.

There will be a viewing from 4:30 to 9 p.m. Monday with the family present from 7 to 9 p.m. at the funeral home.

In lieu of flowers, the family requests that contributions be sent to Guss Funeral Home, 20 S. Third St., Mifflintown, PA 17059 to help with the funeral expenses.

Condolences may be offered online at www.gussfh.com.