Martha (HECKENDORN) RAFFENSBERGER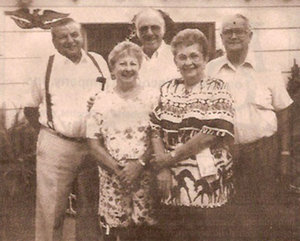 Click On Image To Enlarge
OBITUARY for MARTHA HECKENDORN RAFFENSBERGER

PORT ST. LUCIE, Fla. Martha "Martie" Raffensberger, 76, of Port St. Lucie, Fla. died Dec. 17, 2004.

Born May 12, 1928, she was the daughter of the late Miles J. and Thelma Heckendorn of Port Royal. Her husband of 57 years, Donald, survives.

Also surviving are: children, Diane Steele, Kathy Harrell, Don and David Raffensberger; brother Miles J. Heckendorn; and eight grandchildren, all of Florida.

Services were held Monday, Dec. 20, at First United
Methodist Church, Fort Pierce, Fla. Interment was in White City Cemetery, Fort Pierce.